Accelerate innovation with Areteir Cloud by paying for the used cost and immediately utilizing the latest technology without massive investment.
Intuitively integrated web UI supports HPC environment configuration, resource request, distribution, and dashboard management, enabling customers to set up and operate a public HPC cloud environment tailored to their needs.
Public Cloud Features
Verified cloud infrastructure resources

Utilization of verified Amazon Web Services (AWS) and Naver Cloud Platform (NCP) resources through multiple BMTs

Provision of platform for various industrial fields

Support for platforms such as semiconductors, atmospheric science, new materials, mechanical engineering, and deep learning in addition to general HPC usage

Thorough service specialist team operation

Provision of various technical support services such as instance recommendation based on usage pattern analysis and S/W environment configuration

Efficient cost management

Efficient cost management features including contract pricing plans, spot instance function, termination reservation, automatic stop of unused resources, notification function, etc.
Public Cloud Architecture
Public Cloud Service Platform Environment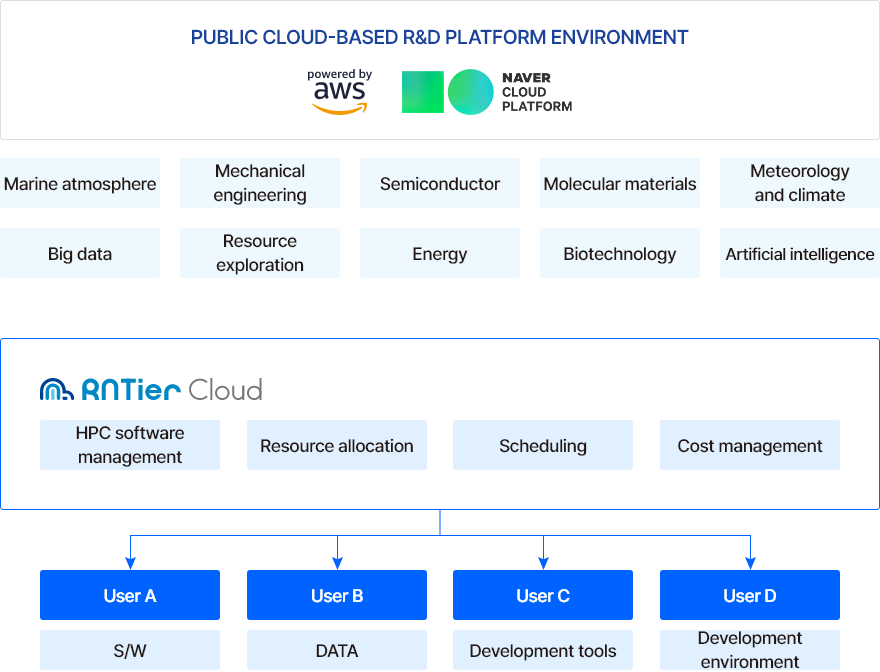 IT Trend
RNTier Cloud Insight